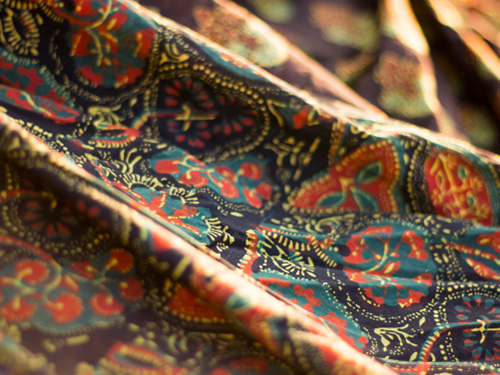 Ajrakhpur Village
Ajrakhpur is known worldwide for the art of Ajrakh, block printing uses colors derived from nature, such as indigo, henna, turmeric, pomegranate, iron and mud. In some cases, the fabrics are washed up to 20 times. The printing blocks are hand-carved. Ismail Mohammed Khatri's traditional expertise in block-printing and natural dyes was given due recognition when De Montfort University of Leicester presented this skilled craftsman with an honorary doctorate in textiles. The Khatris are a community of block-printers adept in the 3,000-year-old art of Ajrakh. The process is complex and involves 16 different processes. Ismail Mohammed Khatri has gained critical acclaim for his innovative use of natural dyes that include a mixture of camel dung, soda ash and castor oil, waste iron, myrobalan, madder, indigo, pomegranate peel boiled in water, sprays of turmeric water and the root of rhubarb.
Against the dull canvas of the Kachchh desert the rich and bold colours of the textiles are strikingly displayed. The millennia old tradition of weaving and dyeing textiles originated in this Indus Valley region in the North West of India, and is still in abundance today.
For a typical Kachchhi man or woman, their cloth is an essential everyday commodity and decoration as well as a symbol of their identity. Whether woven, embroidered, printed or tie-dyed, the textiles worn by a person in this area can reveal a multitude of details about their caste, gender, age, religious affiliation, marital status and economic standing.
The highly skilled and patterned ajrakh block-printing came to Kachchh from Sind 400 years ago when the Muslim Khatris (artisans who 'apply colour to cloth') settled in the village of Dhamadka. In 2001 a devastating earthquake severely damaged Bhuj, Dhamadka and other villages and towns all over the Kachchh region. In the wake of this tragedy, the Khatris were brought closer together and a new village was created to rebuild their lives and their craft production, aptly named Ajrakhpur ('place of Ajrakh'). Today there are Khatris living and working in both villages.